The last thing you want to do is introduce garden structures into your home that can put off or even harm the local wildlife including birds. That's why we're going to go over how you can integrate your outdoor furniture with the birds in your garden, to ensure they get enough food, don't become damaged, and don't get too scared by the new addition to their habitat! Reclining garden chairs that you will love.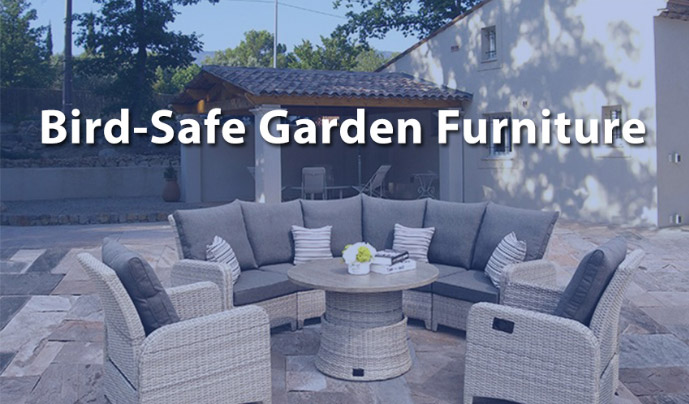 Remember you can see the most common garden birds around here.
Things to avoid
There are several things you want to avoid in your garden furniture when you're trying to help the birds
1. Avoid Large See Through Panels
As you may imagine, the bird population hasn't evolved with many see through yet solid panels floating around the countryside, and so the introduction of large panels of glass on your garden furniture can cause big problems.
Similar to the way conservatory doors can receive many bangs from wandering birds, panels on garden furniture will receive the same treatment!
Not only does this put birds lives in danger, it also could end up damaging your expensive furniture, so best to keep the glass paneling for inside.
2. Avoid Spikes and Sharp Edges
Unless you're planning on putting off birds all together, anything with sharp edges (particularly on vertical facing sections) should be avoided.
This means any decoration that involves large studs or spikes, unfinished metal or rough edged wood should not be used in order to save the birds feet.
Choose a smooth material such as wood-effect composite or rattan furniture.
Reclining Garden Chairs
The criteria for a good retailer is:
Provides the furniture at that quality you need.
Provides the type of furniture we need.
Provides the right materials.
Provides bird friendly garden furniture.
Ideally does some work with wildlife charities.
One option for reclining garden chairs is gardencentreshopping.co.uk here.
They are owned by Sapcote Garden Centre, a local business in Leicestershire that boasts an impressive record of working with local and national charities for wildlife causes such as saving the bees and protecting the forests.
They can provide all weather furniture which doesn't have to be maintained, ideal for those who want to save time. There are also a range of Winawood benches which as simply brilliant.
You can see the video below for more on their bird friendly range:
Remember to visit our website for more information on birds.